Earlier today, Kim Bum released his Japanese single, titled "Eve no Sora / Ima Aini Ikimasu", or "聖夜の空 / 今, 會いに行きます" in Japanese. If my Korean is bad, then my I'm foreign to Japanese. I really don't know any Japanese except "okaasan", "otousan", "aligato", and "ohio" hehe…
I can't really tell if his Japanese is good or not since I'm not Japanese, but he has a pretty good voice. The songs are ballad-y as Japanese music seems to be calm or cute for the most part.
There are bits of Engrish in the songs hehe…
I think this is the album cover: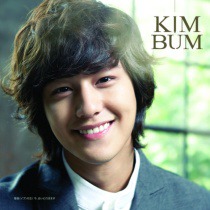 Here's the tracklist for his single:
01 イントロ(フォー・イブズ・ラバーズ[Intro (For Eve's Lovers)]
02 聖夜の空 [Christmas Eve Sky]
03 今、会いに行きます [Going To Meet Her Now]
04 今、会いに行きます[Going To Meet Her Now Korean Ver.]
05 聖夜の空 (Inst.)
06 今、会いに行きます(Inst.)
Tracks 2 and 3 are the title songs.
Here are the audios except for the intro which I can't find (I'm not sure if  MV(s) are going to be released).
Christmas Eve Sky:
Going To Meet Her Now:
Going To Meet Her Now (Korean Version):
Christmas Eve Sky (Instrumental):
Going to Meet her Now (Instrumental):
videos from kpopsounds @ youtube